Supermodels of the past never had anything inked on their body but if they did, it was certainly a small design.
Fast forward to today and you will see the risen trend of tattoos across many platforms including the modelling world.
What was possibly once thought only for punk bands such as Metallica, Guns N' Roses, Red Hot Chili Peppers, and their fans alike is now a huge trend amongst the population.
So, when did tattoos make their first appearance?
Interestingly, tattoos date back many thousands of years. There is strong evidence that this form of ancient art was discovered on mummified skin! The oldest sign of human tattoos dates between 3370 BC and 3100 BC so it certainly isn't a new concept.
Tattoos are also a part of many global cultures expressing different symbols, meanings and messages. The Buddhist culture incorporates Mandala tattoos which are beautiful inked designs that depict eternity and the universe whilst in the 1600s, Japanese tattooing (otherwise known as irezume) was born and is absolutely stunning!
Current interesting stats!
Here at Models Direct we found an April 2018 study conducted by Dalia Research. According to their results, 40% of people in the UK have at least one tattoo. That's a high proportion for sure which demonstrates the uprising trend of being inked.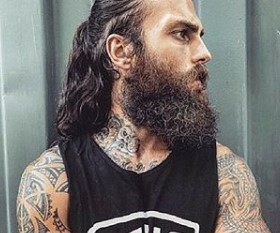 Inked models
What might've once been deemed as being an off-putting characteristic in the modelling world certainly doesn't seem so any longer. If you're a newbie to the modelling industry with some permanent designs, or a lot of them, then remove any uncertainty about getting called in for an assignment.
Being adorned in artistic designs hasn't slowed careers down and there are some recognisable tattoo models on the global platform such as Teya Salat, Ray Mattos and Stephen James.
So, if you're thinking of signing up to a modelling agency (like ours, we hope) then read on and be sure to hit us up.
Be honest
Like the saying goes: honesty is the best policy. If you have any tattoos, let the modelling agency know about them. And if they're deemed as being inappropriate – for instance, if you've got a curse word – be prepared for them to be covered up for a photoshoot. If that's the case, go with the flow. Be flexible; you can wash off the coverage after the job is done.
Strike a pose
If a client likes your look, tattoos included – that's fab. And if you've been called in for an assignment, that's awesome. Strike a pose and maybe include your tattoos in your work. They are you and what makes you unique so show your individuality and what makes you shine on camera.
Models like Kate Moss and Gisele Bundchen are rocking tattoos and sometimes have them included in their work, or sometimes have them covered up.
Finding your place in the modelling world
Think again if you reckon you don't have what it takes to be a model. You might have the classic "model look" pictured in your mind's eye but times as well as trends have changed. Now there's a whole array of different types of models out there and you sure could be joining them too. 
Get in touch with our great spirited Models Direct team today. We'd love to hear from you and look forward to receiving some amazing snaps of you and your tats!