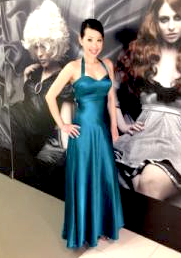 Models Direct reviews new female model Josephine's interest in getting into the industry in this interview with the petite 26-year-old. She shows a determined and positive attitude towards her potential new career and we are delighted to hear that she is "proud" of being one of our models. Likewise, we are proud to represent someone with her qualities.
Vital statistics
Bust: 32A
Waist: 23
Hips: 34
How would you describe your look?
I usually give people impression of being a friendly, easy going, girl next door type, with a down to earth look.
Where did your interest in modelling come from?
Ever since I was young, I always dreamed of being a model. I'm a people person, I like to interact and work in a team. I like to learn and experience new things in life. I think modelling will suit my personality and provide me the opportunity to do all this. Modelling is not just a job for me but because I enjoy doing it.
What made you choose Talent Management?
I chose Talent Management because I have confidence in the agency, the agency has a large client database and lots of contacts, as well as a reputation within the industry. I am proud of being one of the models of this agency, it gives me safe environment to work in, and I know I will have more exposure in the industry with this agency.
What are you hoping to gain from signing up with a model agency?
I hope to gain more experience in the industry, an opportunity to gain exposure with future clients. I hope the agency will provide an opportunity to gain some assignments.
Name the top 3 things about yourself that you think will make you a good model.
1. I am confident person with humble attitude, I can work and communicate with different types of people.
2. I have the 'can do' attitude, am very adaptable and have a flexible working style.
3. My unique looks are easily accepted, and would be recognised by the general public if I became the model for a commercial advertisement.
Do you have any additional talents; singing, dancing, acting, etc?
I like music and am good at singing. I went to singing class once a week and am grade 3 on the piano. I used to take ballroom dancing classes. I've never been to any acting classes, but I think I could be good at acting because I am sensitive and have many life experiences. I can easily imagine a scenario, fall into the acting role, and express the associated feelings.
What are you most looking forward to in becoming a model?
I am really looking forward to an opportunity and my first assignment. I am not fussy about the job and am willing to travel. If I get an assignment, I will show the best of me.
If you're interested in getting into modelling like Josephine, you can apply at Talent Management's dedicated modelling site Models Direct, where you'll also find a range of information on modelling designed to help you when choosing a model agency.
If you're interested in booking Josephine for an assignment you have coming up, simply get in touch with Talent Management's booking agents on 0844 334 0000, quoting her model reference number – 'AQS 484721′, or fill in a model request form at www.modelsdirect.com/model-hire