Our model Lucy was pretty excited to be selected for the starring role in the new Perfect Virtual Reality Commercial for #Playstation!!
Lucy  has had previous experience in modelling and acting through Models Direct, but never before had she done anything like this. Her brief was to act out a response to different scenarios that were given to her and create the realism of these situations through her expressions. This was all to be done infront of a green screen, so special effects could all be added later in the process, therefore, Lucy had no idea what her surroundings were or what she was reacting to!
Read how Lucy got on: "Today, I completed my fourth job through Models Direct Agency. The #assignment was for a video games console commercial. I had the lead role which involved me wearing a pair of virtual reality glasses and pretending to react to my surroundings. There was a green screen behind me so special effects can be added during post production. One of the scenes included me acting as if I had stepped out onto a mountain and was gasping at the view! A wind machine was used to blow my hair around to help enhance the scene but it was my job to create the realism through my expression! It was fun day' working with a lovely film crew – I cannot wait to see the finished commercial!"
A few behind the scenes pics of Lucy's time on set!!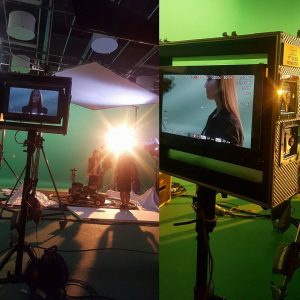 What an exciting experience for Lucy and great to add to her portfolio! The modelling & talent industry can be incredibly diverse and exciting. #Assignments range massively, so the more diverse you are the better!
Enjoy the trailer!!