Are you expecting??
Modelling may not be something you've ever considered before, but if you are expecting this might be a good time to start! Maternity models are in high demand and Models Direct would like to hear from you!
Maternity models are used regularly in advertisements and commercials for baby products, maternity clothing and other baby related products, the maternity market is growing rapidly as designers release new and innovative products for that market. Clients will be looking to hire models who are actually pregnant to promote their products or services as this creates a more authentic feel and the customer can relate to it better.
As a maternity model it is really important to keep Models Direct updated with the progress of your pregnancy and also keep your photographs up to date. Throughout the different stages of pregnancy our bodies change, so we need to represent you with accurate photographs as that is how a client will expect you to look when you are selected for work.
When doing a maternity shoot client's are obviously very understanding to how you might be feeling, so regular breaks and food and drink will be offered to ensure you are comfortable and have an enjoyable experience.
Confidence is a huge factor in modelling and never more so than when you are a maternity model. Clients using maternity models will be looking for smiley, confident models, who portray a positive message about pregnancy. Make sure you are smiling in your photographs and have that all important glow and appear healthy and happy – don't be afraid to show off your bump! Clients looking to book maternity models will be drawn to models  who have big smiles, stand tall and look at ease with their bodies, this all comes across in photographs and is really important when creating an campaign or commercial.
Some agencies only represent maternity models, however at Models Direct we represent a variety of models of all shapes and sizes, so we can continue to represent you once you have had the baby. The assignments team often receive requests from clients looking for model new mum's with their newborns, it makes a shoot so much easier if the newborns mum is a model too!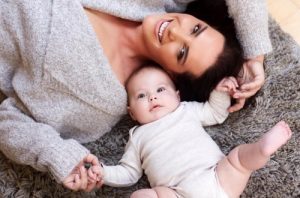 Check out this feedback video from our maternity model Natalie on a recent shoot for Fittamamma:
"I just recently did my first maternity video shoot booked through Models Direct and it all went so well. Everyone was lovely, really professional and the whole team were brilliant. It was a lot of fun and a great experience and I will definitely look forward to my next booking with Models Direct." – Natalie
"Sienna and I had lots of fun on this photo shoot for baby sleeping products!! It was like a F1 tyre change with lifting Sienna as she slept from pod to pod (to model four different product designs)! I was a very proud mummy watching Sienna be adorable during this shoot and we cannot wait to do more with Models Direct!!" – New Mum
Video (7) – Katie Green