"The quality of our expectations determines the quality of our action."
Ladies, pay attention!
Many females think (or dream) about being a model, which is perfectly natural. That dream can be realised just by contacting us, and it might be easier than you'd imagine.
More established models on our books have enjoyed working with an eclectic mix of companies for years. It's no wonder, really, because as an agency we've been firmly in the pole position since 1990. When the general public thinks of models, the majority of people instantly think of females. Sure, there are plenty of males, children and animals who shine in front of the camera (we should know – we have hundreds on our books, too!), but a female is what many people imagine when they think of a model.
So, what can you expect as a new female model?
Wrong question! The question is: what can't you expect?!
The fact is, it's not just a question of choosing the right clothes, touching up on your mascara and smiling on cue. If that's what you perceive a standard female model does, you'd be about 2% correct. Because of the diverse nature of modelling work, all models have to be flexible – yes, even pets! – because the ability to adapt and adjust at the shortest of notice is part and parcel of being a model. Which is quite exciting, isn't it?
Of course, the specifics of a modelling job depends on the job in question. There is no "typical" job for female models – not really. Some assignments, naturally, have similar characteristics and requirements to others. However, models meet new people on each job – both staff and other models – which can result in long-term friendships, and is refreshing when comparing to a mundane job in which people merely tolerate. That is to say, modelling can be exciting, diverse and have limitless boundaries.
For example, some of our female models have recently completed work for tattoo-removing companies, photo shoots for Sky Sports (with delicious lunches!), and several assignments cycling around the capital for Transport for London (our models' pedalling skills improved instantly!). See…there isn't really a regular jobs for our female models!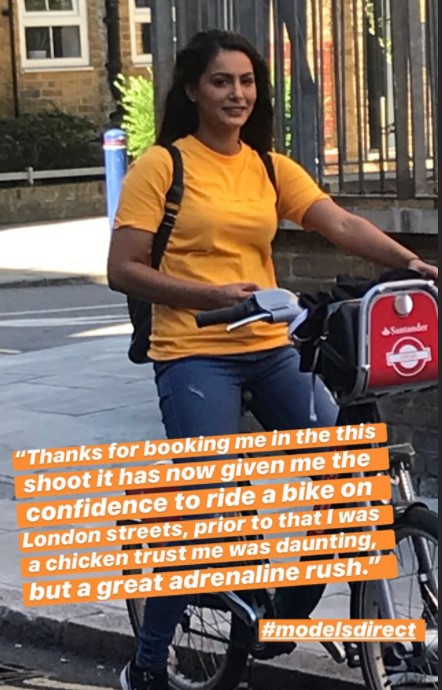 Several modelling jobs require travel, which suits many applicants, as well as overnight stays. Only you will know which assignments suit you, as there may be restrictions (child care, weekends, too far distance etc). However, restrictions are a mere obstacle, because we have jobs in abundance which will be perfect for most female models.
If you have genuine aspirations about becoming a female model, coupled with reasonable expectations and the desire to succeed, you can expect the following:
Enjoyable, paid work.
Great contacts.
Support from our professional staff.
Travel.
Fun!
Variety.
Increase in confidence.
Don't just take our word for it! Have a peek at our website for feedback from happy female models, or take a look at our Instagram page for stories regarding female modelling.
Simply give us a bell if you have any queries – we'll look forward to hearing from you. Who knows – sometime down the line you could be cycling around town…and getting paid for it!