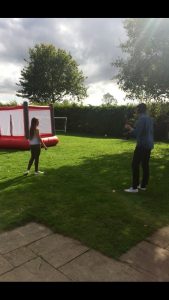 Family modelling can be can be a super fun way of experiencing the modelling industry together and there is a big demand for commercial, model families!
Models Direct represent a few model families and are often putting the forward for commercials, holiday park promotions, product shoots, etc.
Models Direct were delighted to be able to offer the Pearce family another opportunity last week with AirBoing Trampolines! The family were super excited to get the opportunity to film a commercial for such a fun and exciting product!
The Pearce family are experienced now and have done lots of different assignments for Models Direct, they have a great attitude towards the work, are flexible and communicate with the team here all the time which makes the process so much easier.
Models Direct were so pleased to receive these behind the scenes shots from the filing assignment and can't wait to hear how it all went! – Big well done to the Pearce family!